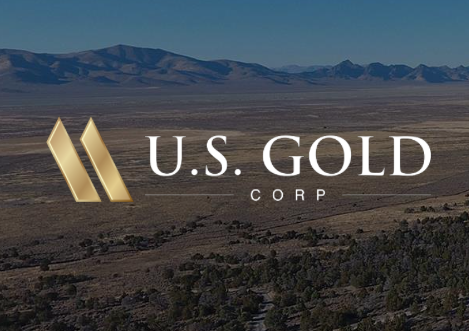 _______
OUR NEW PROFILE IS:   NASDAQ: USAU
CHECK OUT THE INVESTOR PRESENTATION HERE
U.S. Gold Corp. Inc.'s World-Class Assets Could Be An Explosive Play For Both Inflation and the EV Boom
Check out the Investor fact sheet HERE
The Top 5 Reasons to Consider U.S. Gold Corp.
Right Place, Right Time- Mounting Potential Catalysts Could Help USAU's CK Gold Project Generate Millions
With Tesla Exceeding a $1 Trillion Market Cap,(35) The Global Copper Shortage and EV Boom May Have Created a Historic Opportunity for USAU
A Regional "Player to Watch"(20) Exploring Untapped Promise in the World's 5th Largest Gold-Producing "Country"
U.S. Gold Corp. United States NASDAQ: (USAU) Has Staked Its Claim Where Nevada's Gold Boom Started (23) Along With Another Project in Idaho
With 175+% Of Upside Potential (as of 3/9/22) According to Alliance Global Partners 28, U.S. Gold Corp.'s NASDAQ: (USAU) Stunning Breakout May Just Be Starting
The price of gold is soaring right now. It's the only way to put it.
Much of this has come from one core idea: Trust in financial institutions and central banking has been waning.
This has created renewed support for tangible assets having value not based on government fiat.
"We have gold because we cannot trust governments," President Herbert Hoover famously said in 1933 in his statement to Franklin D. Roosevelt. (1)
1933 was nearly a century ago, but with such uncertainty over the past few decades, it's no surprise that traders have time and time again turned to safe-haven assets. CV19
Investopedia defines a "safe haven" as a type of investment that is expected to retain or increase in value during times of market turbulence. (2)
Remember the 2008 financial crisis? Beginning in 2007 and running through 2009, gold ran to unprecedented highs and surged hundreds of dollars in price. (3)
The price of 1 ounce of gold hit an all-time record of $1,895 on September 5, 2011, in response to worries that the United States would default on its debt. (3)
? It sent gold prices skyrocketing to over $2,000 an ounce in 2020. (3)
Now here we are in 2022 and uncertainty has become our daily lives.
As the Ukraine and Russia conflict intensifies, we're seeing the price of gold on their own warpath.
And with no immediate end in sight and governments around the world scrambling for answers domestically and internationally, there might not be as good of a time to keep a close eye on gold and gold mining stocks.
Meet U.S. Gold Corp. United States NASDAQ: (USAU) and its historically promising projects. As USAU advances 4 high-potential projects: The Copper King (CK) Gold Project in Southeast Wyoming, Keystone on the Cortez Trend in North Central Nevada, Maggie Creek on the Carlin Trend in Nevada, and the Challis Gold Project located in Idaho, it could very well have a generational type of upside in this current environment. And based on 5 prime reasons, U.S. Gold Corp. United States NASDAQ: (USAU) could be the top junior mining play on the planet right now.
*****Breaking News*****
U.S. Gold Corp. Finds Further Evidence of High-Grade within the CK Gold Project Resource and Reserve Base – 10ft of 11.8 g/t Gold and 7.8% Copper (22.7 g/t AuEq)
Reason #1

– Right Place, Right Time- Mounting Potential Catalysts Could Help USAU's CK Gold Project Generate Millions
As USAU charges towards potentially becoming a household name among investors, it's the company's CK Gold Project that's catching the ears and eyes of many. After all, one of Barrick Gold's former top executives, George Bee, became CEO(8) of U.S. Gold Corp. United States NASDAQ: (USAU). The CK Gold Project was a significant reason why.
Bee said, "I took a look at the CK Gold Project, did my due diligence, and it has a lot going for it."(9)
CK Gold could drive USAU to new heights for too many reasons to count. So let's break down some of the top ones. For one, it could be a diamond in the rough and a ground floor play on inflation. Inflation is not transitory, as the Fed tried to tell us in April,(29) and could persist well into the new year. Not to mention, we're in the midst of a supply chain crisis that's only adding to this soaring inflation. According to Goldman Sachs, the supply chain crisis has gotten so bad that there is a traffic jam of roughly 77 ships with $24 billion worth of goods outside the Ports of Los Angeles and Long Beach. About 40% of U.S. imports enter through these ports.(30) Have fun paying for your kid's Christmas presents this year. Until this gets fixed, inflation will not improve. Which means potentially big things for gold and USAU. The last time inflation got this bad was in 1971. Gold, at one point, nearly tripled in one day from $42 to $120, and we could be seeing the same type of conditions today.(31) Additionally, CK Gold is in an advantageous location in mineral-rich Wyoming. The importance of geographic location cannot be overstated. Wyoming is very friendly for the resource sector with less regulation and out of Federal jurisdiction. Meaning the project can get to production much faster.(9)
"There is a lot of infrastructure very close by, including a rail spur and a rail line 2.5 miles north of the project. The company can potentially ship diesel fuel in, shift concentrate out, and have a lot of future cost savings." – Ed Karr, Founder.
The state sure seems excited by the prospects, too, with recent local news articles hyping up the company with such headlines as "Cheyenne May Soon Boast The Only Working Gold Mine In The State of Wyoming"(34) and "Potential Gold Copper Mine Could Generate Millions For State."(34) If continued data collection bears out hopes, the CK Gold Project could produce tens of millions in revenue for the state. Jason Begger, the spokesperson for the CK Gold Project, claims that the project becomes more certain and confident with every bit of data collected.(33) The mine site is owned by the state and located in an old copper mine that hasn't been worked on since before World War II. The gold deposit has been known to exist for a long time. Finally, new mining technology has reached a point where experts think it could be worth reopening. If the project continues to move forward at this pace, Begger said they estimate the financial boon to the state could be in the tens of millions.
"We have partnered with the University of Wyoming and their economic analysis division, and they'll be completing an economic impact analysis of both tax revenue to the State of Wyoming, vendors, sales tax – the kind of broader impacts – so that is in the works," he said.(33) "It's a nice shot in the arm for the state of Wyoming," he said.(33)
Perhaps, the most outstanding feature of the CK Gold Project is its simplicity. It's an open-pit mine which means its copper and gold concentrates are at surface level.(9) This can make operations much more efficient and eco-friendly.(10) Additionally, the property has a meager stripping ratio. This translates to high productivity, low operating costs, and good safety conditions from a pure investment standpoint.(11)
So buckle up. USAU saw considerable activity at the CK Gold Project in recent months.
USAU announced a positive Pre-Feasibility Study (PFS) for the CK Gold Project on Dec 1, 2021. To put it mildly, it even exceeded the most potentially positive expectations. For example, see how Alliance Global Partners reacted in their Dec 2, 2021 report. In their view, the PFS outlined a robust project featuring "low-cost production of over 100,000 gold equivalent ounces per annum over a 10-year mine life." 28
Alliance added that "given the project's production profile of over 100,000 ounces of gold per year, strategic location in the United States, manageable CapEx, and accelerated permitting timeline, we view the CK Project as an attractive asset that warrants development." 28
After all, the announcement did cause them to raise their price target for the company from $20 to $25.
Plus, USAU released this video on the heels of releasing its positive Pre-Feasibility Study:
(Source 4)


With much of the heavy lifting related to Feasibility level work already completed, the project's development may only accelerate from here.
Reason #2

– With Tesla Exceeding a $1 Trillion Market Cap,(35) The Global Copper Shortage and EV Boom May Have Created a Historic Opportunity
Let's talk a bit about Tesla. On Oct 25, 2021, Hertz announced a record-setting order of 100,000 Teslas for its fleet, causing the stock to skyrocket over 12%, and send it to a $1 trillion+ market cap. Elon Musk's EV giant not only became the 6th company in history to exceed the $1 trillion mark. It became the 2nd fastest ever to do so.(35)
Globally speaking, copper is strategically essential. Industries that produce solar panels, windmills, and electric vehicles are frantically looking for more and more supply.(5) But do you know what each brand new Tesla requires? Around 80 kg (176 lbs) of copper! (36)
The potential for copper makes US Gold Corp (NASDAQ:USAU) even more intriguing, outside of being a potential inflation hedge. While the CK Project is estimated to hold nearly 700,000 ounces of gold awaiting extraction, the company estimates the mine has a mind-blowing 230 million pounds of copper.(33) Other estimates show that the CK mine may hold enough copper to build about a million electric vehicles.(26)
Another significant catalyst to consider is its location. It's located roughly 2 miles north of a central East-West Union Pacific rail line, giving it potentially easy rail access to Tesla's Nevada Gigafactory.(37)
To possibly be THE copper supplier for the world's latest $1 trillion giant could be game-changing. It's not just Tesla, though, that could cause this property to see a surge in copper demand. Traditional automakers like General Motors Co. and Ford are going electric, which means a supply boom is expected, causing copper demand to soar.(37) This could be American copper from a future American mine, creating American jobs. CK spokesman, Jason Begger, was also sure to point out that as Wyoming and the country embrace new technologies like EVs, manufacturers will require a lot of copper – copper the CK Gold Project could produce.(33) Begger also added that the project is roughly a 10-year operation.(33)
Meanwhile, to add to the theme of sustainability, the CK Gold Project should run far cleaner. The company does not intend to use hazardous chemicals; there's no refinery or air-polluting smokestack. In fact, the hole in the ground can potentially be used for water storage for the city of Cheyenne.(9)
There could even be other deals for the waste rock, adding even more revenue potential and reducing environmental impact.(9) Another significant usage of copper is wind turbines. Wyoming for decades profited from the coal mining industry but is now one of the states leading the way in the future of clean energy. Wyoming is the largest exporter of energy in the United States and ranks first in land-based class 6 and 7 wind turbine sites.(37)
Trafigura Group believes copper could hit $15,000 a ton over the next decade, according to Bloomberg.(6)
After all, "You can't move to a green economic environment and not have the copper price moving significantly higher," says Kostas Bintas, a trader at Trafigura. "How can you have one without the other?"(7)
You can see more about the CK Gold Project below. (It's quite eye-opening!)
Reason #3

– A Regional "Player to Watch"(20) Exploring Untapped Promise in the World's 5th Largest Gold-Producing "Country"(17)
Its Wyoming operations with the CK Project are its bread and butter. Yet USAU is also exploring a project with untapped potential in Nevada, aka the 5th largest gold-producing "country" in the world.(17)
In fact, in 2017 alone, Nevada claimed to have seen roughly 5.6 million oz. of gold produced, accounting for approximately 75% of American gold production.(18)
Historically, the region has also produced approximately 225 million oz. of gold. Thanks to Nevada's pro-mining environment, geopolitical stability, and high-quality infrastructure, this could be yet another bullish catalyst for U.S. Gold.(19)
After all, INN Gold Investing News recently deemed U.S. Gold Corp. United States NASDAQ: (USAU) a regional "player to watch."(20) U.S. Gold Corp. is currently exploring for gold in the Keystone project in the heart of the Cortez Gold Trend. It's also about 10 miles south of Barrick's Cortez Hills Mine Complex.
Even more impressive, the trend appears to host numerous deposits:(21)
In May 2021, the company received confirmation from the Bureau of Land Management (BLM) that it accepted additional bonding for a further 50 acres of disturbance under its effective Plan of Operations. As a result, the company announced an update for its potential 2021 summer exploration program at its 20-square-mile Keystone project, located in Nevada's Cortez Trend.(22) Ken Coleman, U.S. Gold Corp.'s Chief Geologist, stated:
Reason #4

– Beyond Cortez Trend, U.S. Gold Corp. United States Has Staked Its Claim Where Nevada's Gold Boom Started(23) Along With Another Project in Idaho
U.S. Gold Corp. (United States NASDAQ: (USAU) is also exploring Maggie Creek. Maggie Creek, a project located on the Carlin Trend- another one of the world's most highly prospective mineral trends. Maggie Creek is located roughly 10 miles northeast of Newmont Mining's Gold Quarry Mine.
Additionally, there could be nearly three square miles of unpatented mining claims on this potentially gold-rich project (26 M oz Au).(21)
Furthermore, back in June, U.S. Gold Corp. announced the successful completion of 2021 Drilling at Maggie Creek. U.S. Gold Corp. drilled 4,440 feet (approx. 1,353 meters) in 2 holes. Drilling successfully identified targeted structure, host stratigraphy, and Carlin-style alteration at similar depths to current mining operations along the Carlin Gold Belt.(39) Most of all, the strength of alteration and anomalous geochemistry warrant potential additional exploration.(39)
In addition to Maggie Creek, U.S. Gold Corp. boasts the Challis Gold Project, another project with significant upside exploration potential. It's located about 75 km southwest of Salmon, ID, and 20 km southwest of Revival Gold's Beartrack Project in the Tertiary Challis Volcanic Field. The project is also located close to the Stibnite Au project, Bear Track Au project, Delamar Ag-Au mine, Coeur d'Alene Ag- Zn-Pb mines, Black Pine Au mine, and Thompson Creek Mo mine.(25) Ken Coleman, U.S. Gold Corp.'s Chief Geologist, added:
Reason #5

– With 175+% Of Upside Potential (as of 3/9/22) According to Alliance Global Partners 28, U.S. Gold Corp.'s Stunning Breakout May Just Be Starting
Reflecting how explosive junior miners can perform relative to physical commodities, the USAU stock has been no exception. After touching a low of $6.16 on Feb 15, 2022, the stock has seen a strong uptrend, advancing to a $9.79 high on Mar 8, 2022..
Physical gold's performance since the beginning of February could signal a strong correlation.
USAU is one to watch closely. Gold prices may only be heating up. Its gold mining prospects are excellent inflation hedges, with transformative upside potential. No signs are in place that inflation could get better well into 2022. In a note to clients, Ian Shepherdson, chief economist at Pantheon Macroeconomics, reflected this and said, "A quick resolution, either way, is very unlikely. Uncertainty will persist for some time."(47)
Its copper prospects are also perfect for the EV boom and push for a cleaner, sustainable world. Tesla just reached a $1 trillion market cap,(35) and its CK Project could be 2 miles north of a central East-West Union Pacific rail line, giving it potentially quick and easy rail access to Tesla's Nevada Gigafactory.(37)
Couple that with a strong, experienced, and high-quality team running the company, and you have all the ingredients of a big-time winner in the near term and long term. H.C. Wainwright gave USAU a $16.00 price target for a reason.(28)
With over 50% of upside potential from its Mar 9, 2022 close of $9.00 based on this target, along with the rally it's seen since the beginning of February, watch out. Very few companies are at the right place at the right time from numerous angles like this one.
NEWS
MANAGEMENT
George Bee
PRESIDENT, CEO AND CHAIRMAN
Mr. Bee is a senior mining industry executive, with deep mine development and operational experience.  He has an extensive career advancing world-class gold mining projects in eight countries on three continents for both major and junior mining companies.  Most recently in 2018 Mr. Bee concluded a third term with Barrick Gold as Senior VP Frontera District in Chile and Argentina to advance Pascua Lama feasibility as an underground mine. This capped a 16-year history with Barrick Gold with positions that included Mine Manager at Goldstrike during early development and operations, Operations Manager at Pierina Mine taking Pierina from construction to operations, and General Manager of Veladero developing the project from advanced exploration through permitting, feasibility and into production.
With his Barrick experience and having had eight years in South Africa working underground gold with Anglo American and open pit copper with Rio Tinto at Palabora Mine, Mr. Bee was well placed to advance projects internationally and domestically as a senior executive. This led to his appointment to various board and leadership positions at various companies. As COO of Aurelian Resources in 2007, he was in charge of project development for Fruta del Norte in Ecuador until Aurelian was acquired by Kinross Gold in 2008. Post-acquisition, moving on from Kinross, where he had also previously worked from 1996 to 1998 advancing projects in El Salvador and Nevada, he joined Andina Minerals as CEO in 2009. Andina and its 6 million-ounce Volcan Gold Project in Chile was acquired by Hochschild in 2013. By this time Mr. Bee had been appointed to the boards of Peregrine Metals and later Stillwater Mining and Jaguar Mining. In 2014, he also assumed the role of Chief Executive Officer of Jaguar Mining, operating mines in Brazil, as the company emerged from a financial restructuring process.
Mr. Bee is a graduate of the Camborne School of Mines in Cornwall, United Kingdom and is a member of the Institute of Corporate Directors with an ICD.D designation.
Eric Alexander
CHIEF FINANCIAL OFFICER AND CORPORATE SECRETARY
Mr. Eric Alexander has over 30 years of corporate, operational and business experience, and over 15 years of mining industry experience. Previously he served as Corporate Controller of Helix Technologies, Inc., a publicly traded software and technology company from April 2019 to September 2020. Prior to that, he served as the Vice President Finance and Controller of Pershing Gold Corporation, a mining company (formerly NASDAQ: PGLC), from September 2012 until April 2019. Prior to that, Mr. Alexander was the Corporate Controller for Sunshine Silver Mines Corporation, a privately held mining company with exploration and pre-development properties in Idaho and Mexico, from March 2011 to August 2012. He was a consultant to Hein & Associates LLP from August 2012 to September 2012 and a Manager with Hein & Associates LLP from July 2010 to March 2011. He served from July 2007 to May 2010 as the Corporate Controller for Golden Minerals Company (and its predecessor, Apex Silver Mines Limited), a publicly traded mining company with operations and exploration activities in South America and Mexico. In addition to his direct experience in the mining industry, he has also held the position of Senior Manager with the public accounting firm KPMG LLP, focusing on mining and energy clients. Mr. Alexander has a B.S. in Business Administration (concentrations in Accounting and Finance) from the State University of New York at Buffalo and is also a licensed CPA.
Kevin Francis
VICE PRESIDENT – EXPLORATION & TECHNICAL SERVICES
Mr. Francis has held many senior roles within the mining industry, including VP of Project Development for Aurcana Corporation, VP of Technical Services for Oracle Mining Corporation, VP of Resources for NovaGold Resources and Principal Geologist for AMEC Mining and Metals. Most recently, he consulted to U.S. Gold Corp. as Principal of Mineral Resource Management LLC, a consultancy providing technical leadership to the mining industry, as well as the CK Gold Project through his association with Gustavson Associates (a member of WSP) since September 2020. Mr. Francis is a member of the Board of Directors of Texas Mineral Resources Corporation. Mr. Francis is a "Qualified Person" as defined by SEC S-K 1300 and Canadian NI 43-101 reporting standards and holds both an M.S. degree and a B.A. in geology from the University of Colorado.
Sincerely,
DISCLAIMER
Source 1: https://www.investopedia.com/ask/answers/09/gold-standard.asp
Source 2: https://www.investopedia.com/terms/s/safe-haven.asp
Source 3: https://goldprice.org/spot-gold.htm
Source 4: https://d1io3yog0oux5.cloudfront.net/usgoldcorp/files/video/U.S.+Gold+Corp.+I+CK+Gold+Project.mp4
Source 5: https://www.cnbc.com/2021/05/06/copper-is-the-new-oil-and-could-hit-20000-per-ton-analysts-say.html
Source 6: https://www.visualcapitalist.com/why-gold-mining-stocks-outperform-gold-bull-markets/
Source 7: https://sprott.com/insights/sprott-gold-report-gold-the-simple-math/#
Source 8: https://www.prnewswire.com/news-releases/us-gold-corp-announces-the-appointment-of-senior-mining-industry-executive-mr-george-bee-as-president-301111513.html
Source 9: https://youtu.be/QO1d5tUdE5Q
Source 10: https://sciencing.com/open-pit-mining-pros-cons-12083240.html
Source 11: https://www.intechopen.com/chapters/71931
Source 12: https://finance.yahoo.com/news/healthy-correction-bear-market-silver-141406103.html
Source 13: https://www.barchart.com/stocks/quotes/USAU/performance
Source 14: https://www.investing.com/equities/dataram-corp-technical
Source 15: https://www.vaneck.com/us/en/investments/junior-gold-miners-etf-gdxj/
Source 16: https://www.barchart.com/etfs-funds/quotes/GDXJ/performance
Source 17: https://www.reviewjournal.com/business/2-new-major-finds-may-extend-nevadas-gold-boom-for-years-1972010/
Source 18: https://www.usgoldcorp.gold/properties/challis-gold/overview
Source 19: https://goldbull.ca/big-balds/
Source 20: https://investingnews.com/innspired/cortez-trend-nevada/
Source 21: https://d1io3yog0oux5.cloudfront.net/_99cb187746de0507d7057beee5eadd57/usgoldcorp/db/280/795/pdf/USAU+Corporate+Presentation+May+2021.pdf
Source 22: https://www.usgoldcorp.gold/news-media/press-releases/detail/125/u-s-gold-corp-receives-bureau-of-land-management-approval Source 23: https://www.mining-technology.com/projects/carlin/
Source 24: https://www.prnewswire.com/news-releases/us-gold-corp-highlights-progress-on-challis-gold-project-as-it-moves-toward-plan-of-operations-301299634.html
Source 25: https://www.usgoldcorp.gold/properties/challis-gold/overview
Source 26: https://finance.yahoo.com/news/u-gold-corp-amplifies-potential-130919049.html
Source 27: https://www.foxbusiness.com/economy/yellen-says-americans-havent-experienced-current-inflation-rate-in-a-long-time
Source 28: https://d1io3yog0oux5.cloudfront.net/_f5ca51969ee43abae80b0d958cd37587/usgoldcorp/db/280/795/pdf/USAU+Corporate+Presentation+Oct+2021.pdf
Source 29: https://bit.ly/3mlsA0o
Source 30: https://www.cnbc.com/2021/10/25/economists-expect-shipping-problems-to-linger-well-into-2022.html
Source 31: https://www.thebalance.com/gold-prices-and-the-u-s-economy-3305656
Source 32: https://stockcharts.com/h-sc/ui?s=%24GOLD&p=D&yr=0&mn=0&dy=15&id=p23897033209&a=1042871741&listNum=3
Source 33: https://county17.com/2021/10/14/tcs-cheyenne-gold-mine/
Source 34: https://www.wyomingnews.com/news/local_news/potential-gold-copper-mine-could-generate-millions-for-state/article_5ff26327-d9f5-5af0-8762-a26fed274d66.html
Source 35: https://www.cnn.com/2021/10/25/investing/tesla-stock-trillion-dollar-market-cap/index.html
Source 36: https://alphaomegarecycling.com/electric-cars-role-may-increase-demand-base-metals/#:~:text=A%20fully%20electric%20car%20uses,upside%20in%20other%20green%20technologies.
Source 37: https://www.yahoo.com/now/u-gold-corp-amplifies-potential-130919049.html
Source 38: https://www.usgoldcorp.gold/news-media/press-releases/detail/137/u-s-gold-corp-outlines-2021-field-season-activities-and
Source 39: https://www.usgoldcorp.gold/news-media/press-releases/detail/129/u-s-gold-corp-successfully-completes-2021-drilling-at
Source 40: https://schrts.co/ApjTJDre
Source 41: https://schrts.co/eManmckD
Source 42: https://schrts.co/niFycXVH
Source 43: https://schrts.co/urgMpVjn
Source 44: https://www.barchart.com/stocks/quotes/usau/opinion
Source 45: https://money.com/gold-vs-gold-miner-stocks/
Source 46: https://www.foxbusiness.com/economy/producer-inflation-set-record-for-sixth-straight-month
Source 47: https://www.etftrends.com/gold-silver-investing-channel/gold-hits-1800-as-yields-take-a-dip/
THIS WEBSITE/NEWSLETTER IS A WHOLLY OWNED SUBSIDIARY OF ONE22 MEDIA, LLC, HEREIN REFERRED TO AS O22, LLC
OUR REPORTS/RELEASES ARE A COMMERCIAL ADVERTISEMENT AND ARE FOR GENERAL INFORMATION PURPOSES ONLY. WE ARE ENGAGED IN THE BUSINESS OF MARKETING AND ADVERTISING COMPANIES FOR MONETARY COMPENSATION.  WE HAVE BEEN COMPENSATED A FEE OF TWENTY THOUSAND USD FOR A ONE DAY USAU AWARENESS CAMPAIGN BY A THIRD PARTY, LEGENDS MEDIA, LLC.WE HAVE PREVIOUSLY BEEN COMPENSATED A FEE OF FIFTEEN THOUSAND USD FOR A ONE DAY USAU AWARENESS CAMPAIGN BY A THIRD PARTY, LEGENDS MEDIA, LLC.BACK ON DEC 2 2021.   NEVER INVEST IN ANY STOCK FEATURED ON OUR SITE OR EMAILS UNLESS YOU CAN AFFORD TO LOSE YOUR ENTIRE INVESTMENT. THE DISCLAIMER IS TO BE READ AND FULLY UNDERSTOOD BEFORE USING OUR SERVICES, JOINING OUR SITE OR OUR EMAIL/BLOG LIST AS WELL AS ANY SOCIAL NETWORKING PLATFORMS WE MAY USE.PLEASE NOTE WELL: O22 LLC AND ITS EMPLOYEES ARE NOT A REGISTERED INVESTMENT ADVISOR, BROKER DEALER OR A MEMBER OF ANY ASSOCIATION FOR OTHER RESEARCH PROVIDERS IN ANY JURISDICTION WHATSOEVER.RELEASE OF LIABILITY: THROUGH USE OF THIS WEBSITE VIEWING OR USING YOU AGREE TO HOLD O22, LLC, ITS OPERATORS OWNERS AND EMPLOYEES HARMLESS AND TO COMPLETELY RELEASE THEM FROM ANY AND ALL LIABILITY DUE TO ANY AND ALL LOSS (MONETARY OR OTHERWISE), DAMAGE (MONETARY OR OTHERWISE), OR INJURY (MONETARY OR OTHERWISE) THAT YOU MAY INCUR. THE INFORMATION CONTAINED HEREIN IS BASED ON SOURCES WHICH WE BELIEVE TO BE RELIABLE BUT IS NOT GUARANTEED BY US AS BEING ACCURATE AND DOES NOT PURPORT TO BE A COMPLETE STATEMENT OR SUMMARY OF THE AVAILABLE DATA. O22 LLC ENCOURAGES READERS AND INVESTORS TO SUPPLEMENT THE INFORMATION IN THESE REPORTS WITH INDEPENDENT RESEARCH AND OTHER PROFESSIONAL ADVICE. ALL INFORMATION ON FEATURED COMPANIES IS PROVIDED BY THE COMPANIES PROFILED, OR IS AVAILABLE FROM PUBLIC SOURCES AND O22, LLC MAKES NO REPRESENTATIONS, WARRANTIES OR GUARANTEES AS TO THE ACCURACY OR COMPLETENESS OF THE DISCLOSURE BY THE PROFILED COMPANIES. NONE OF THE MATERIALS OR ADVERTISEMENTS HEREIN CONSTITUTE OFFERS OR SOLICITATIONS TO PURCHASE OR SELL SECURITIES OF THE COMPANIES PROFILED HEREIN AND ANY DECISION TO INVEST IN ANY SUCH COMPANY OR OTHER FINANCIAL DECISIONS SHOULD NOT BE MADE BASED UPON THE INFORMATION PROVIDED HEREIN. INSTEAD O22, LLC STRONGLY URGES YOU CONDUCT A COMPLETE AND INDEPENDENT INVESTIGATION OF THE RESPECTIVE COMPANIES AND CONSIDERATION OF ALL PERTINENT RISKS. READERS ARE ADVISED TO REVIEW SEC PERIODIC REPORTS: FORMS 10-Q, 10K, FORM 8-K, INSIDER REPORTS, FORMS 3, 4, 5 SCHEDULE 13D.O22, LLC IS COMPLIANT WITH THE CAN SPAM ACT OF 2003. O22, LLC DOES NOT OFFER SUCH ADVICE OR ANALYSIS, ANDO22, LLC FURTHER URGES YOU TO CONSULT YOUR OWN INDEPENDENT TAX, BUSINESS, FINANCIAL AND INVESTMENT ADVISORS. INVESTING IN MICRO-CAP AND GROWTH SECURITIES IS HIGHLY SPECULATIVE AND CARRIES AND EXTREMELY HIGH DEGREE OF RISK. IT IS POSSIBLE THAT AN INVESTORS INVESTMENT MAY BE LOST OR IMPAIRED DUE TO THE SPECULATIVE NATURE OF THE COMPANIES PROFILED.THE PRIVATE SECURITIES LITIGATION REFORM ACT OF 1995 PROVIDES INVESTORS A SAFE HARBOR IN REGARD TO FORWARD-LOOKING STATEMENTS. ANY STATEMENTS THAT EXPRESS OR INVOLVE DISCUSSIONS WITH RESPECT TO PREDICTIONS, EXPECTATIONS, BELIEFS, PLANS, PROJECTIONS, OBJECTIVES, GOALS, ASSUMPTIONS OR FUTURE EVENTS OR PERFORMANCE ARE NOT STATEMENTS OF HISTORICAL FACT MAY BE FORWARD LOOKING STATEMENTS. FORWARD LOOKING STATEMENTS ARE BASED ON EXPECTATIONS, ESTIMATES, AND PROJECTIONS AT THE TIME THE STATEMENTS ARE MADE THAT INVOLVE A NUMBER OF RISKS AND UNCERTAINTIES WHICH COULD CAUSE ACTUAL RESULTS OR EVENTS TO DIFFER MATERIALLY FROM THOSE PRESENTLY ANTICIPATED. FORWARD LOOKING STATEMENTS IN THIS ACTION MAY BE IDENTIFIED THROUGH USE OF WORDS SUCH AS PROJECTS, FORESEE, EXPECTS, WILL, ANTICIPATES, ESTIMATES, BELIEVES, UNDERSTANDS, OR THAT BY STATEMENTS INDICATING CERTAIN ACTIONS & QUOTE; MAY, COULD, OR MIGHT OCCUR. UNDERSTAND THERE IS NO GUARANTEE PAST PERFORMANCE WILL BE INDICATIVE OF FUTURE RESULTS.IN PREPARING THIS PUBLICATION,O22, LLC HAS RELIED UPON INFORMATION SUPPLIED BY ITS CUSTOMERS, PUBLICLY AVAILABLE INFORMATION AND PRESS RELEASES WHICH IT BELIEVES TO BE RELIABLE; HOWEVER, SUCH RELIABILITY CANNOT BE GUARANTEED. INVESTORS SHOULD NOT RELY ON THE INFORMATION CONTAINED IN THIS WEBSITE. RATHER, INVESTORS SHOULD USE THE INFORMATION CONTAINED IN THIS WEBSITE AS A STARTING POINT FOR DOING ADDITIONAL INDEPENDENT RESEARCH ON THE FEATURED COMPANIES. THE ADVERTISEMENTS IN THIS WEBSITE ARE BELIEVED TO BE RELIABLE, HOWEVER, O22, LLC AND ITS OWNERS, AFFILIATES, SUBSIDIARIES, OFFICERS, DIRECTORS, REPRESENTATIVES AND AGENTS DISCLAIM ANY LIABILITY AS TO THE COMPLETENESS OR ACCURACY OF THE INFORMATION CONTAINED IN ANY ADVERTISEMENT AND FOR ANY OMISSIONS OF MATERIALS FACTS FROM SUCH ADVERTISEMENT. O22, LLC IS NOT RESPONSIBLE FOR ANY CLAIMS MADE BY THE COMPANIES ADVERTISED HEREIN, NOR IS O22, LLC RESPONSIBLE FOR ANY OTHER PROMOTIONAL FIRM, ITS PROGRAM OR ITS STRUCTURE. 022, LLC IS NOT AFFILIATED WITH ANY EXCHANGE, ELECTRONIC QUOTATION SYSTEM, THE SECURITIES EXCHANGE COMMISSION OR FINRA.